Rushing For Gold
From Archaeopedia
Rushing for Gold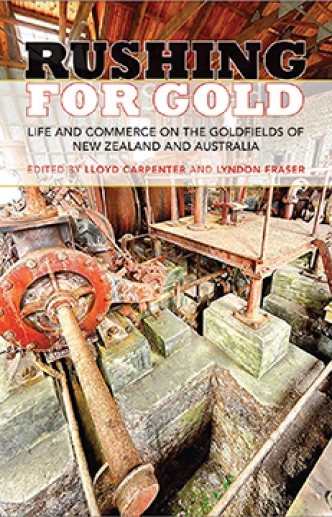 Life and Commerce on the Goldfields of New Zealand and Australia.
Edited by Lloyd Carpenter and Lyndon Fraser, 2016, Otago University Press. 396pp. ISBN 978-1-877578-54-0, $45
Blurb
A new book reveals the obscured historic connections forged between Australia and New Zealand during the gold rush period. Rushing for Gold, edited by University of Canterbury graduate Lloyd Carpenter and University of Canterbury Associate Professor Lyndon Fraser, is the first book to examine the nature of trans-Tasman ties, the short-lived and the long-lasting, formed from gold fever.
Rushing for Gold reveals the cultural complexities of the mining frontier: amid gold fever multiple streams of trans-Tasman relationship were set in motion. A lowly migrant could, overnight, become an individual of great wealth. The gold rushes impacted on all domains of life, upending the social order, mixing up classes, races and nationalities, says co-editor Dr Lyndon Fraser.
"It was not solely an Otago gold rush, but an Australasian one, where diggers chased their gold dreams in a headlong rush back and forth across the inconvenient Tasman Sea," says Dr Fraser.
Rushing for Gold provides fascinating glimpses into the everyday lives of Cantonese and indigenous miners, women, Irish-born migrants and 'casualties of colonisation'; further chapters reveal the depth of Maori engagement in trans-Tasman commerce and society and explore why, and how, the Chinese survived and often thrived as sojourners in Otago.
"Armies of restless diggers criss-crossed the sea highways joining Melbourne to Hokitika and Dunedin," says co-editor Dr Lloyd Carpenter. "A colourful entourage of storekeepers and publicans, wardens, bank agents, domestic servants and musicians followed in their wake."
This multi-perspective volume, with contributions from academics, local historians and genealogists, is a must-read for anyone interested in goldfields and colonial history. Rushing for Gold unravels the mythology of the era and reveals the richness and complexity of the trans-Tasman relationship during this formative period.
About the editors: Lyndon Fraser is an associate professor of history at the University of Canterbury and a research fellow at the Canterbury Museum. His recent publications include A Distant Shore: Irish migration and New Zealand settlement; Castles of Gold: A history of the West Coast Irish, which won the J.W. Sherrard Award for New Zealand Regional and Local History; and Far from Home: The English in New Zealand, co-edited with Angela McCarthy.
Lloyd Carpenter has worked as a teacher, insurance manager, sales manager and Salvation Army officer. In 2008 he returned to the University of Canterbury and completed a PhD on a subject he has loved since his youth: the Central Otago gold rush. He currently teaches Māori Studies at Lincoln University. In 2016 Lloyd will be a visiting fellow of Cambridge University's Faculty of History.
Comment
Contributions from archaeologists include chapters from Joanna Boileau and Neville Ritchie.